About Punchbowl United FC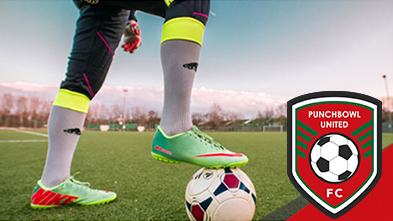 WELCOME TO PUNCHBOWL UNITED FC
Based at Bland Oval in Riverwood, Punchbowl United Football Club was established in November 2017 and is a participant in the Canterbury District.

We are always looking for new players and families to join as well as coaches, managers and sponsors.

Punchbowl United FC caters for boys and girls teams in sanctioned competitions within in the Canterbury & District Soccer Football Association (C.D.S.F.A).

The club welcomes players aged from Under 6's through to adults and is accommodating for players of all abilities. We are a family-oriented club, striving to achieve success on and off the field by supplying a safe, controlled, professional and enjoyable sporting environment.

Joining Punchbowl United FC will enable you to enjoy the greatest game in the world……. the World Game.


REGISTER NOW
Please click on below options to find out more about registrations with Punchbowl United FC.
LATEST NEWS
We'd like to thank the City of Canterbury Bankstown for their support to community clubs in the LGA during this time. Great leadership shown by making the important decision to waive ground fees for the 2021 season.
Thank you to Clr. Khal Asfour - Mayor of the City of Canterbury Bankstown and the other councillors for their support.
...
THANK YOU TO OUR SPONSORS
Registrations open in early January of each year and we keep taking registrations right through until the end of May. Please bear in mind that the season starts in April, so if you want the full value of your registration fee, you need to register early so you can start playing from the beginning of the season. The only way to register to play is via the online registration portal and all the details regarding registration can be found on our Registration Page.
At Punchbowl United FC we currently only play during the winter season. The season officially starts at the beginning of April and the finishes mid / late August of each year.
Players play in the age they turn that year. For example, if your child is playing in the 2018 season, and turns 7 that year, they will play in the Under 7′s. Children who are turning 5 or 6 in that particular year will play in the Under 6′s. Unfortunately we cannot register children 4 years old and under, as our insurance won't allow for it. Players cannot play below their age group but they can play up to 2 age groups above their own – please contact the club registrar for further details.
We try to keep all the younger children (and Parents) happy by placing the children in teams where they will know other children, however, this is not always possible. Please bear in mind that if your child ends up in a team where they will have the opportunity to make new friends – THIS IS A GOOD THING – It broadens the child's horizons and helps them interact, and develop new friendships. For the older players – If you would like to bring a group of friends and register a complete team, you will need to contact the Club Registrar or President first, as there are a few stipulations that you will need to be made aware of.
For Safety Reasons – All players must be wearing Shin Pads and 'Proper' Football (Soccer) Boots when training and playing a game. Training – Players can wear whatever they like. Please bear in mind that Shin Pads and 'Proper' Soccer Boots are essential. Playing a Game – Players must wear the Club's full current playing strip, ie: Jersey, Shorts and Socks along with Shin Pads and 'Proper' Football (Soccer) Boots. Jerseys, Shorts and Socks will be supplied by the Club at no cost to you and will be given to you by your Coach or Manager.
Each registered player will receive a Jersey, one pair of shorts and socks to keep from the club at no additional cost prior to the season start. Shorts and Socks will be supplied by the Club at no cost to you and will be given to you by your Coach or Manager. Players are encouraged to wear their Jerseys as much as possible, to assist in promoting the wonderful sponsors that appear on the them. Without our Sponsors, we cannot operate. If replacements are required, they can be purchased from the canteen on any weekend during the season. Shin Pads and Soccer Boots: Shin Pads and Soccer Boots can be purchased from any sports store, eg: Rebel Sport, Athletes Foot, Paul's Warehouse, etc. Other Apparel: You will find that other apparel will become available for purchase from the canteen, eg: Jackets, Beanies, Caps, Sports Bags, etc. Available items will change from time to time and are subject to availability.
All Under 6 and Under 7 games are played at Strathfield Park on Saturday mornings. Under 6's normally kick off at 9:00am and Under 7's normally kick off at 10:00am. (Same time and same place every Saturday morning). All Under 8's-11's, All Age Men and Over 35's (boys and mixed competitions) play on Saturday's. Under 12's-18's Boys & all female aged comps play on Sunday's All teams registered in Under 8 and above play at various fields within the Canterbury district. The younger teams are normally scheduled for earlier in the day, with adults in the afternoon.
VISIT US AT OUR SPORTS GROUND